Invisalign in Holmdel, Brick & Oakhurst
---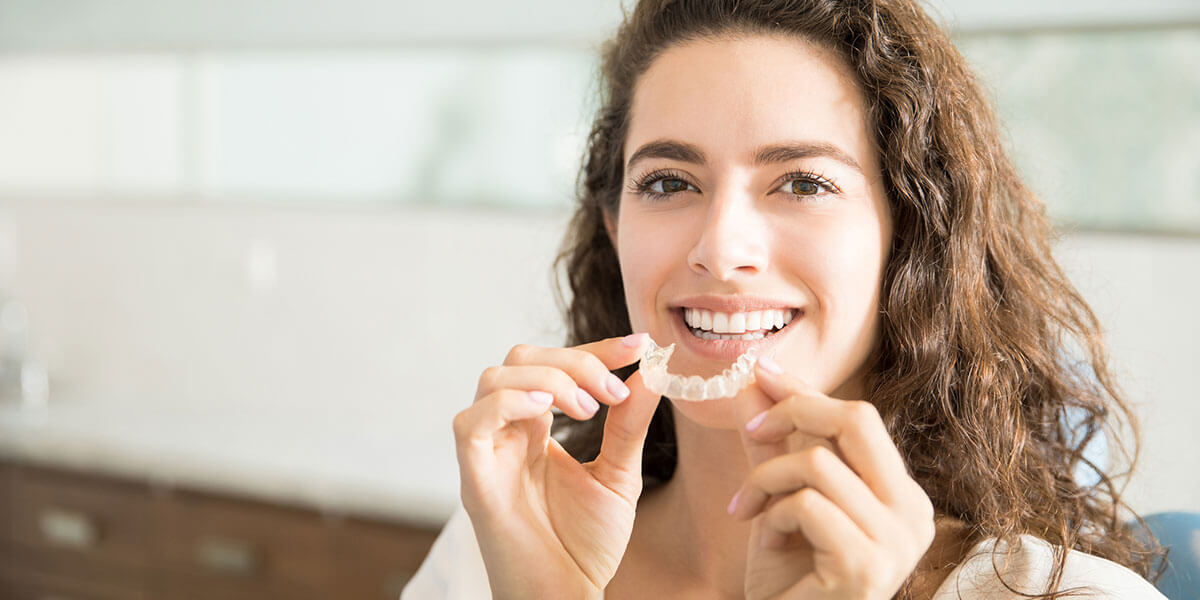 ---
Invisalign® takes a modern approach to straightening teeth.
---
This advanced system uses a custom-made series of aligners created for you and only you. These aligner trays are made of smooth, comfortable and virtually invisible plastic that you wear over your teeth. Wearing the aligners will gradually and gently shift your teeth into place, based on the exact movements our team plans out for you. 
Invisalign can correct many different dental issues, including: 
Crowded teeth

Crooked teeth

Slanted teeth

Misaligned teeth

Gapped teeth

Overbite

Underbite

Crossbite

Open bite 
There are no metal brackets to attach and no wires to tighten. You just pop in a new set of aligners approximately every two weeks, until your treatment is complete. You'll achieve a great smile with little interference in your daily life. The best part about the whole process is that most people won't even know you're straightening your teeth.
Benefits of Invisalign
---
Easy to care for

Removable

Discreet appearance

Save time with fewer dental visits

No diet restrictions

Better oral health

Comfortable treatment option

No major changes to oral hygiene routine
Who is a Good Candidate for Invisalign?
---
---
While Invisalign is a great option for many patients - especially those with mild to moderate orthodontic needs - it may not be a fit for everyone. For instance, anyone with the following may find that Invisalign treatment is not the best option for them: 
Complex orthodontic care needs

TMJ disorder

Small teeth

Dental implants

Dental bridges
Having a consultation with your dentist is the best way to know whether or not Invisalign can benefit you.

---

---
Frequently Asked Questions
---
How long does treatment with Invisalign last?
---
The length of your treatment will be based on your personal dental needs. For some, treatment can be completed in several months. For others, it could be a year or two.
Do Invisalign aligners need to be worn all the time?
---
It is recommended that you wear your aligners for at least 20 to 22 hours every day, generally only removing them to eat and engage in your oral hygiene routine. Not wearing the aligners as intended can lead to a delay in treatment.
Does Invisalign hurt?
---
No, Invisalign doesn't usually hurt. It should be noted that with each new aligner, you may experience some minor discomfort due to the tight squeeze for a day or two before it subsides. An over-the-counter pain reliever is often all that is needed. 
How much does Invisalign cost?
---
The cost of Invisalign treatment is directly related to the depth of your treatment and the number of aligners you will need. Scheduling a consultation is a great place to start so that you can receive a treatment cost based on your personal needs. 
---